Biodefense World Summit 2018
June 27, 2018

-

June 29, 2018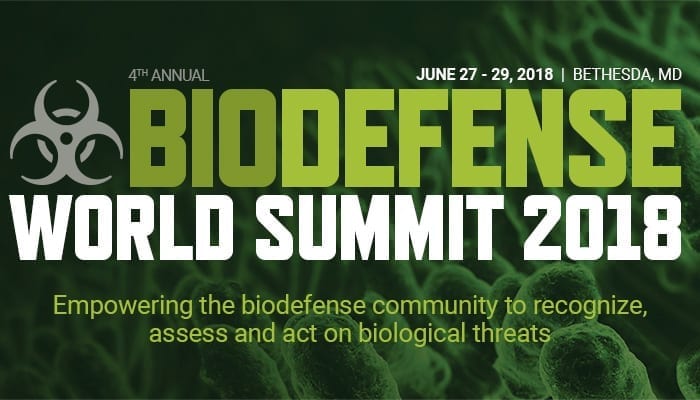 The 4th Annual Biodefense World Summit will be held June 27-29, 2018 in Bethesda, Maryland.
The event brings together stakeholders from government, academia, and industry for compelling discussions and networking opportunities.
Conference programs include:
Highlighted presentations include:
Immune Profiling to Identify Exposure to Infectious Agents
Rethinking Our Approach to Fieldable Infectious Disease Diagnostics
Impact of Diagnostic POC Technology
BioWatch at Age 15: Maturing or Arrested Development?
Sampling: The Forgotten Part of Microbiological Testing
Universal Point-of-Care Diagnostics for All Bacterial Pathogens
USAMRIID's Ability to Go from Novel Pathogen Characterization through the Evaluation of Medical Countermeasures
Early Notification through Electronic Disease Surveillance
Diagnostics in Resource-Limited Environments
Technological and Scientific Gaps in Biosurveillance and BioDetection
Implications of Infectious Virus in Exhaled Breath
Microfluidic Platform for Rapid Antimicrobial Susceptibility Testing
Web Based Visual Analytics for Infectious Disease Surveillance
Rapid Sequencing of RNA and DNA Viromes
Early Notification through Electronic Disease Surveillance
Preservation and Detection of Biothreat Pathogens Using Nanotraps
Please visit the Biodefense World Summit 2018 website for more information and registration.
Global Biodefense is an official media partner of the Biodefense World Summit.