Biological + Chemical Sensors Summit 2016
December 5, 2016

-

December 7, 2016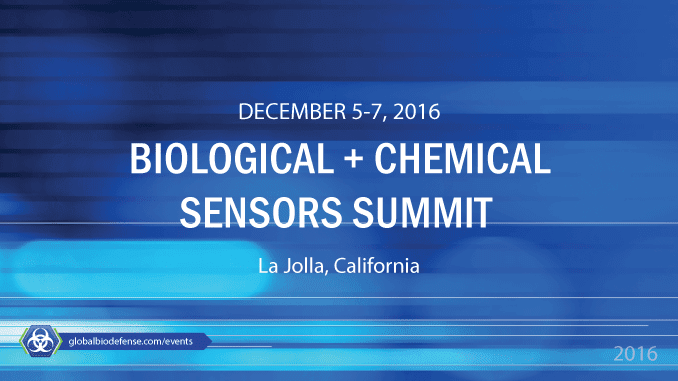 The 2016 Biological + Chemical Sensors Summit will be held December 5-7, 2016 in La Jolla, California.
The event draws an international audience of leading stakeholders, industry and academic leaders to discuss the latest technological advancements of real-world applications within healthcare and emerging markets.
The conference is organized into the following tracks and tutorials:
The latest advancements in research, development and engineering and will provide attendees with the state- of-the-art in biosensors development for healthcare.
Highlighted speakers for this year's Summit include:
Peter Emanuel, Ph.D., BioScience Division Chief, Research & Technology, US Army ECBC
Ahmed Busnaina, Ph.D., Director, National Science Foundation Nanoscale Science and Engineering Center Northeastern University
Lisa Friedersdorf, Deputy Director, National Nanotechnology Coordination Office, National Nanotechnology Initiative
Orlando Lopez, Ph.D., Biomedical Engineer, Lead Regulatory Reviewer, Office of Device Evaluation, FDA
Joseph Wang, Ph.D., SAIC Endowed Chair, Distinguished Professor, Chair of Nanoengineering, University California San Diego
Yibo Zhang, Department of Electrical Engineering, UCLA
Edwin Kan, Ph.D., Professor, School of Electrical and Computer Engineering, Cornell University
Nick van Terheyden, M.D., CMO, Dell
Gary Davis, Vice President, Intel Security
Rasoul Yousefi, Ph.D., Algorithms|Technology Development, RMS – Patient Monitoring & Recovery – MITG, Medtronic
Christopher M. Hartshorn, Ph.D., Program Manager, Office of Cancer Nanotechnology Research, National Cancer Institute
Michael Koehler, Ph.D., Professor, Physical Chemistry and Microreaction Technology, Technical University, Ilmenau, Germany
Please visit the Knowledge Foundation's Biological + Chemical Sensors Summit website for more information and to register.
Global Biodefense is an official media partner of the 2016 Biological + Chemical Sensors Summit.