NCT Asia Pacific 2017
May 16, 2017

-

May 18, 2017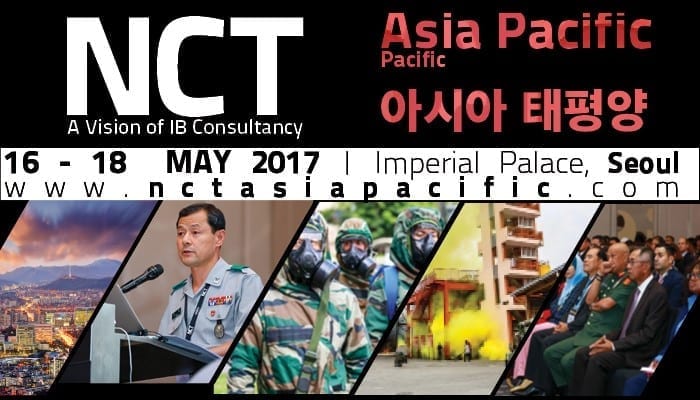 The Non-Conventional Threat NCT Asia Pacific 2017 conference and exhibition will take place May 16-18, 2017 in Seoul, Republic of Korea.
NCT Asia Pacific provides one of the best opportunities to meet with and learn from regional CBRNe experts and stakeholders. The conference will include high-level speakers and governmental delegations invested in CBRNe defense and security in the Asia-Pacific region.
NCT Asia Pacific will provide updates on CBRNe emergency preparedness and response approaches at various levels. The involvement of first responders and military stakeholders will provide useful perspectives for all attendees against the background of existing CBRNe threat environments.
Highlighted topics include:
CBRNe Threats and Capability Building in the Asia-Pacific
Biological and Infectious Diseases
Countering Explosive Threats in Asia Pacific
Radiological and Nuclear Threats: From Prevention to Recovery
Protecting borders against CBRNe threats
Training and Protecting First-Responders
Protecting High Visibility Events against CBRNe Threats
Keynote speakers include Commanders of the Republic of Korea's CBRN Defense Command, Brig. Gen. Yoo Bong Heo, and CBRN School, Brig. Gen. Moon Sung-joon, Dr. Ron Hann from the USA's Defense Threat Reduction Agency (DTRA), as well as Dr. Nam Taek Lee of the Korean BioDefense Research Institute.
Please visit IB Consultancy's NCT Asia Pacific 2017 website for more information and registration.
Global Biodefense is an official media partner of NCT Asia Pacific 2017