CBD S&T Conference 2019 – Chemical and Biological Defense
November 18, 2019

-

November 21, 2019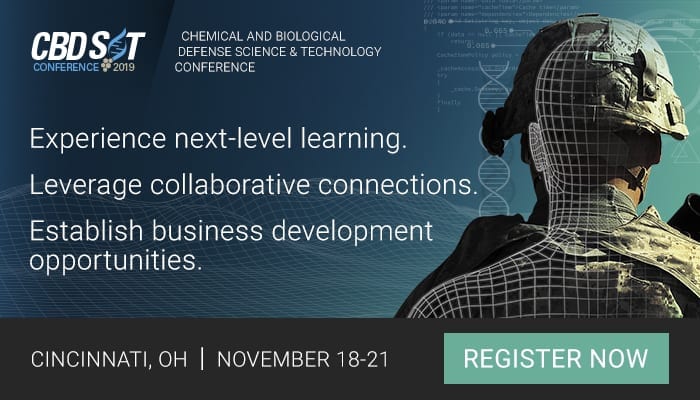 The Defense Threat Reduction Agency (DTRA) will host the 2019 Chemical and Biological Defense Science & Technology (CBD S&T) Conference at the Duke Energy Convention Center, in Cincinnati, Ohio, 18-21 Nov, 2019.
Collaborate with more than 1,500 scientists, program managers and leaders from across the globe who are committed to making the world safer by confronting chemical and biological defense challenges. Attendees will also have the opportunity to network with DTRA science and technology managers as well as other members of DTRA's Chemical and Biological Defense team.
Highlighted session topics include:
Use Prognostic and Predictive Host Response Biomarkers to Inform Medical Treatment and/or Therapies
Synthetic Biology to Enhance Detection and Diagnostic Capabilities
Genotypic to Phenotypic Analysis Tools to Characterize Novel Emerging Threats
Animal Models and Predictive Systems to Determine Optimal Countermeasure Efficacy
Toxin Assessment for Development of Medical Countermeasures
Toxicological Assessments of Aerosol Exposures to Biotoxins
New Methods For Modeling Emerging Threat Agents, Dissemination Devices and CWMD Scenario Development
Organoids and Organs-on-a-Chip Revolutionizing Drug Development
Development of Next Gen Antibody-Based Anti-Infective Therapeutics
Advances in Chemical Plume Characterization Technologies in Large-Scale Releases
Identification Therapeutic Combinations That Avoid Interference of Vaccine-Induced Immunity
Host Targeted Therapies: Pathogen Entry, Replication, Egress; Common Pathways of End State Disease; Host Immune Modifiers
Artificial Intelligence for Early Drug Discovery
Feasibility and Utility of Toxidrome-Based Medical Countermeasures
Emerging hazard prediction techniques (e.g. graphical processing unit applications, neural networks, machine learning)
Please visit the CBD S&T Conference website to register today.