CBRNe Convergence 2016
October 31, 2016

-

November 2, 2016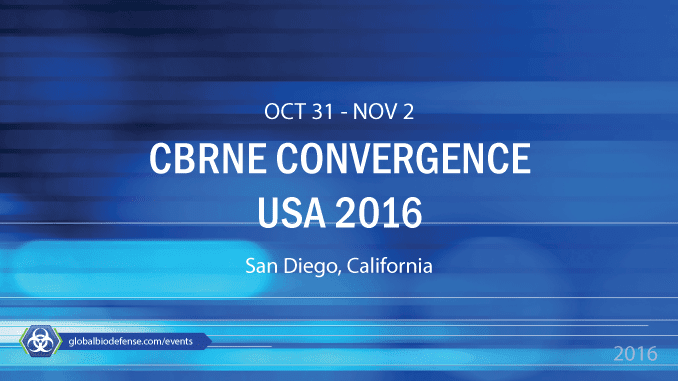 The CBRNe Convergence 2016 Congress & Exhibition will be held October 31 – November 2, 2016 in San Diego, California.
Organized by the experienced team from CBRNe World magazine, the Congress draws leading experts and stakeholders from around the globe.
Growing closer, staying distinct, and merging civilian and military response to CBRN, IED and all hazard threats is the driving theme of CBRNe Convergence.
Highlighted session topics and focus areas include:
CBRN response architecture, capabilities and response
Future of biodetection technologies in a fiscally-constrained environment
Initial assessment of potential WMD incident
Recent chemical warfare agent attacks in Middle East
Perils and opportunities of emerging technologies
Leverage existing infrastructure to combat outbreaks
First responder vs. technical responder
Needs of effective point-of-care
Limited tools for accurate/timely bio-agent detection
Drone advancements and CBRNe defense implications
Waterborne PRND chokepoints
Cruise ship safety and security
Changes in adversary motives and capabilities
EOD/Hazmat joint mission and other agency partnerships
New sets of analytical tools to assess threat evolution
Intelligence driven searches and operations
Selection, composition and training of the Secondary Screening teams
Monitoring and inspecting dangerous cargo
Next generation CBRN / HAZMAT training systems
The event will additionally offer exhibits featuring 60+ of the leading suppliers of CBRNE technology and service solutions.
Please visit CBRNe World's CBRNe Convergence 2016 website for more information.
Global Biodefense is an official media partner of CBRNe Convergence 2016.