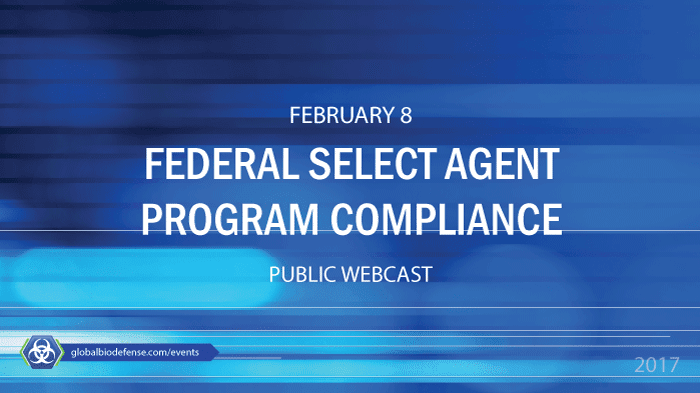 A public webcast of the Multi-Agency Informational Meeting Concerning Compliance with the Federal Select Agent Program will be held February 8, 2017.
The HHS/CDC's Division of Select Agents and Toxins (DSAT) and the U.S. Department of Agriculture's Animal and Plant Health Inspection Service, Agriculture Select Agent Services (AgSAS) are jointly charged with the regulation of the possession, use and transfer of biological agents and toxins that have the potential to pose a severe threat to public, animal or plant health or to animal or plant products. This joint effort constitutes the Federal Select Agent Program.
The event is an opportunity for the affected community and other interested individuals to obtain specific regulatory guidance and information concerning biosafety, security and incident response issues related to the Federal Select Agent Program.
Representatives from the Federal Select Agent Program will be present during the webcast to address questions and concerns from the web participants.
The webcast will be broadcast from CDC in Atlanta, GA. This will only be produced as a webcast; therefore, no accommodations will be provided for in-person participation.
Advance registration is required.