IDWeek 2016 – Infectious Diseases
October 26, 2016

-

October 30, 2016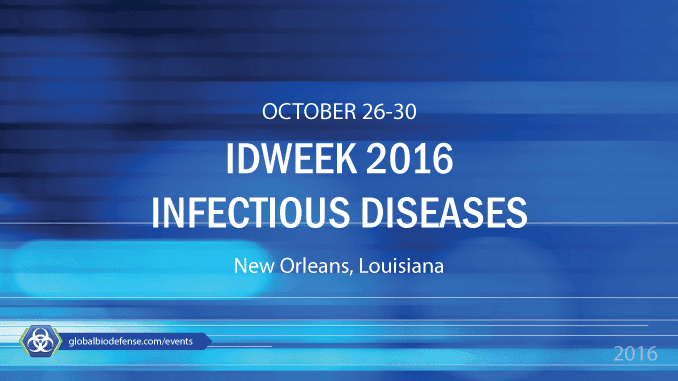 The IDWeek 2016 conference event will take place October 26-30, 2016 in New Orleans, LA.
IDWeek 2016 is intended for healthcare professionals in infectious diseases and healthcare epidemiology and prevention, including researchers, clinicians, quality and patient safety practitioners, epidemiologists, and public health officials, including those who see HIV and pediatric patients.
Highlighted sessions and workshops include:
ID Diagnostics Update 2016
Vaccine Preventable Outbreaks: How Can ID Fight the Skeptics?
Distinguishing Viral and Bacterial Infections: A Diagnostic Debate
Treating Infectious Diseases in Resource-Limited Settings
Emergency Use Clinical Trials for Emergency ID
Crossing the Line of Gram-Negative Resistance
MERS-CoV Update
Host/Microbe Metabolic Factors Shape Infectious Disease Pathogenesis
Novel Insights into Fungal Pathogenesis
How Whole Genome Sequencing Is Transforming Public Health
Using Social Media to Advance Infection Prevention and Stewardship
Friendly Fire – The Infectious Disease Complications of Immunotherapies
Communicating with Vaccine Hesitant Patients
Influence of the Microbiome on Infectious Diseases Pathogenesis
Best Practices for Antibiotic Stewardship Programs
Challenging Cases in Pediatric Infectious Diseases
Infectious Diseases Diagnostics Cases
Ebola: Convalescence and Sequelae
Challenging Cases in Pediatric Infectious Diseases
Getting it Right from the Start – Controversies in Dosing of Antimicrobials
Pro/Con Interactive Symposium: Controversies in Infection Prevention
Food and Travel: Detection of GI Pathogens
When to Switch Antiretroviral Therapies
Please visit the IDWeek 2016 website for more information and registration.