NCT CBRNe Middle East 2016
September 26, 2016

-

September 28, 2016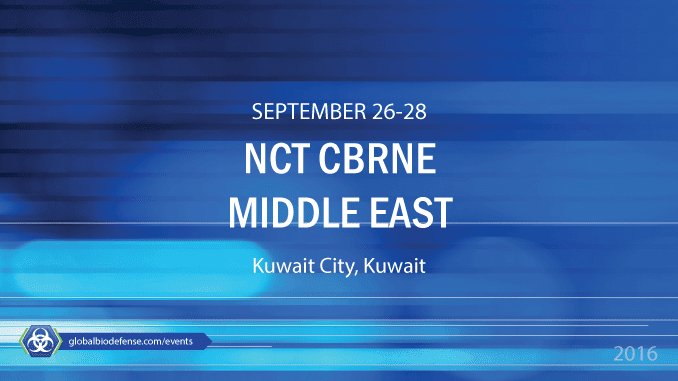 The Non-Conventional Threat NCT CBRNe Middle East 2016 conference event will be held September 26-28 in Kuwait City, Kuwait.
NCT CBRNe Middle East provides one of the best opportunities to meet with and learn from regional CBRNe experts and stakeholders. Taking place in a region which has repeatedly been endangered by the proliferation and usage of nuclear and chemical weapons, the event will address these enduring threats to regional and international security, and methods for military special forces and first responders to prepare for a variety of response and mitigation scenarios.
Highlighted sessions include:
Upcoming Biosafety/Biosecurity Challenges and Innovative Analysis Solutions
Lessons Learned in Countering the Threat of Chemical Weapons in Syria and Iraq
CBRNe Challenges and Civil-Military Response in the Middle East
Protecting Critical Infrastructures and Industrial Cities against CBRNe Threats
Requirements in CBRN Resilience and Response
Mass Gathering Events: Enhancing Preparedness Through CBRNe Monitoring and Training
Radiological and Nuclear Threats: From Prevention to Threat Mitigation
Please visit IB Consultancy's NCT CBRNe Middle East website for more information.