SAFMLS at the CLMA KnowledgeLab 2019
March 31, 2019

-

April 3, 2019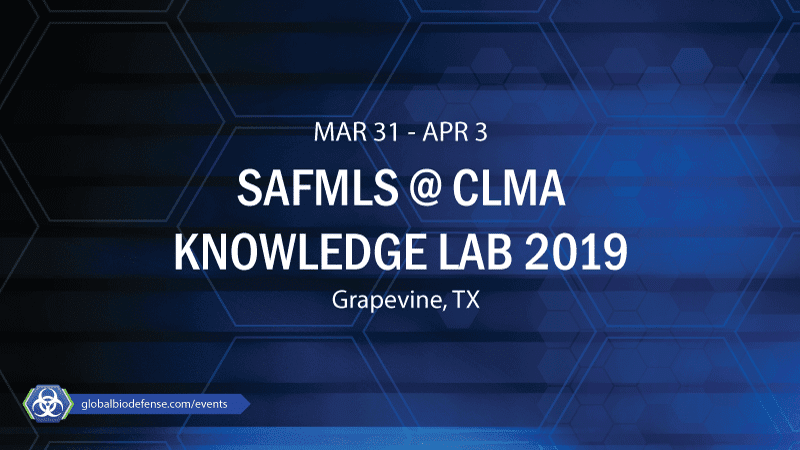 Members of the Society of American Federal Medical Laboratory Scientists (SAFMLS), formerly known as the Society of Armed Forces Medical Laboratory Scientists, will attend the CLMA KnowledgeLab 2019 on March 31 – April 3, 2019 in Grapevine, Texas.
More than 1,000 laboratory professionals will gather for a wide variety of general session presentations, pre-conference workshops and educational breakout sessions available the event. This year's conference features more education than ever before, with the opportunity to earn up to 25 CEUs.
Keynote sessions and workshops include:
Clinical Lab 2.0: What is it? How Does This Translate into Laboratory Management and Leadership?
MHS GENESIS: The New DoD Electronic Health Record
DLM Exam Preparatory Course
Using Data Wisely: Informatics for Laboratory Professionals
Leadership Essentials: What You Need to Know to Grow
A partial list of participating exhibitors includes:
Abbott Laboratories
Advanced Instruments, Inc.
Aerocom Healthcare
American Medical Technologists
American Proficiency Institute
AMETEK PowerVar
AUDIT MicroControls, Inc.
Aureus Medical Group
Beckman Coulter, Inc.
BioFire Defense
Bio-Rad Laboratories
CAREiQ
CellaVision, Inc.
Cleveland Clinic Laboratories
CLMA
College of American Pathologists
DenLine Uniforms, Inc.
Drucker Diagnostics
Exhibitor Name
Fujirebio U.S.
General Data Healthcare, Inc.
GenesisBPS
Genial Compliance Systems/Rainbow Scientific, Inc.
GFMD, Ltd.
Gold Standard Diagnostics
GRIFOLS
Helmer Scientific
Hemosure, Inc.
Henry Schein, Inc.
Hettich Lab Technology
InfoMagnetics Technologies Corporation
InMark Packaging
Inova Diagnostics
Korchek Technologies
Kurin, Inc.
LifePoint Informatics
Luminex Corporation
Mayo Medical Laboratories
Medical Courier Elite
MEDTOX Diagnostics, Inc.
Orchard Software Corp.
Ortho Clinical Diagnostics
Pevco
RALS Connectivity for POCT
Rees Scientific
Roche Diagnostics Corporation
SCC Soft Computer
Seattle Children's Hospital – PLUGS Program
Swisslog Healthcare
Sysmex
TELCOR
The Joint Commission
Thermo Fisher Scientific
Trinity Biotech
University of North Dakota School of Medicine
Vanderbilt Pathology Laboratory Services
Visiun
WellSky
Wondfo USA Co., Ltd.
WSLH Proficiency Testing
Network with colleagues and discover new tactics and technologies for managing your laboratory, providing high-quality patient care and responding to government regulations and policies.
Please visit the CLMA KnowledgeLab 2019 website for more information.
Please note: CLMA-SAFMLS Joint Membership is available exclusively to military SAFMLS personnel and includes a yearly membership to both Clinical Laboratory Management Association (CLMA) and the Society of American Federal Medical Laboratory Scientists (SAFMLS). Visit the link for more information.