Summer Workshop on Pandemics, Bioterrorism and Global Health Security
July 18, 2018

-

July 20, 2018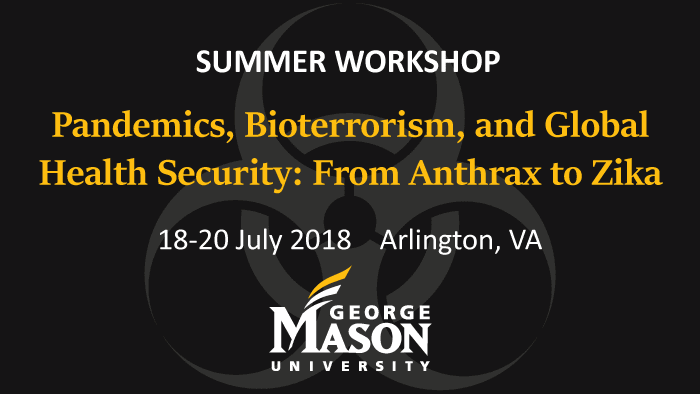 The 2018 Summer Workshop on Pandemics, Bioterrorism, and Global Health Security: From Anthrax to Zika will be held 18-20 July in Arlington, Virginia.
This three-day, non-credit summer workshop is designed to introduce participants to the challenges facing the world at the intersection of national security, public health, and the life sciences. The workshop is organized by the Biodefense Graduate Program at the Schar School of Policy and Government.
Who should attend? Professionals and academics, both domestic and international, in public health, the life sciences, the biotechnology and pharmaceutical industries, international affairs, law enforcement, emergency management, and national security who have responsibilities for preventing, preparing for, or responding to pandemics, bioterrorism, and other threats to global health security.
The workshop faculty are internationally recognized experts from the government, private sector, and academia, and include:
Jens H. Kuhn: Research Leader at Battelle Memorial Institute, Columbus, OH, USA, tasked as the Virology Lead (Contractor) at NIH/NIAID/DCR's Biosafety Level 4 facility, the Integrated Research Facility at Fort Detrick. Dr. Kuhn specializes in highly virulent viral human and animal pathogens.
Edward You is a Supervisory Special Agent in the FBI's Weapons of Mass Destruction Directorate, Biological Countermeasures Unit. Mr. You is responsible for creating programs and activities to coordinate and improve FBI and interagency efforts to identify, assess, and respond to biological threats or incidents.
Gregory D. Koblentz: Associate Professor in the Schar School of Policy and Government and Director of the Biodefense Graduate Program at George Mason University. Dr. Koblentz is a member of the Scientist Working Group on Chemical and Biological Weapons at the Center for Arms Control and Non-Proliferation in Washington. He previously worked at Georgetown University, the Executive Session for Domestic Preparedness at Harvard University, and the Carnegie Endowment for International Peace.
Andrew Kilianski: GMU professor and biological scientist at the DoD. His work focuses on combating current and future threats from weapons of mass destruction in addition to teaching classes on biosurveillance and virology in the GMU Biodefense graduate program. Dr. Kilianski was previously a National Research Council fellow with the US Army at Edgewood Chemical Biological Center.
Sanford L. Weiner: Research Associate in the Center for International Studies at the Massachusetts Institute of Technology, and a Visiting Fellow at Imperial College, University of London. For several decades he has done international comparative policy studies of public health agencies, and research on national security policies and environmental policies. He is currently studying responses to pandemic flu in Europe and the United States.
Robert House: Senior Vice President of Government Contracts for Ology Bioservices, Inc., a contract manufacturing and development organization specializing in products for infectious diseases. He is also President and Owner of Venema Consulting LLC, a private consulting practice specializing in vaccines, immunology, toxicology and infectious disease. Prior to his current positions, he was President of DynPort Vaccine Company LLC (DVC), a biotechnology firm in Frederick, MD.
David R. Franz: Served as commander of the U.S. Army Medical Research Institute of Infectious Diseases (USAMRIID) and as deputy commander of the Medical Research and Materiel Command. His current standing committee appointments include the National Science Advisory Board for Biosecurity (NSABB), the National Academy of Sciences Committee on International Security and Arms Control, the National Research Council Board on Life Sciences, and the Senior Technical Advisory Committee of the National Biodefense Countermeasures Analysis Center. He also served as a member of the first two US-UK teams that visited Russia in support of the Trilateral Joint Statement on Biological Weapons and as a member of the Trilateral Experts' Committee for biological weapons negotiations.
Please visit the GMU Biodefense Summer Workshop 2018 event page for more information.