Superbugs & Superdrugs USA
November 14, 2016

-

November 15, 2016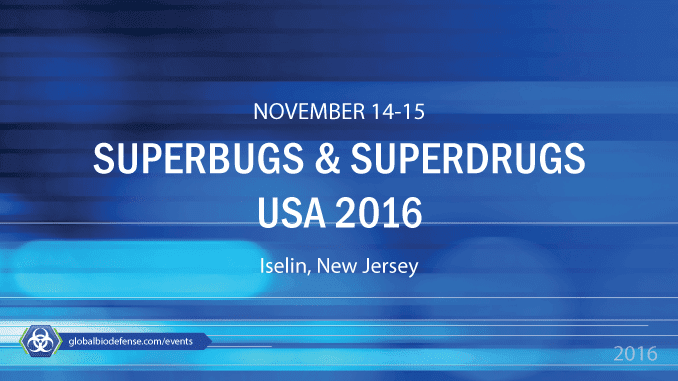 SMi Group's Superbugs & Superdrugs USA conference will be held November 14-15, 2016 in Iselin, New Jersey.
The program will look to address key issues surrounding funding opportunities and U.S. national plans, multi resistance gram negative infections, novel protein based biologics, antimicrobial drug development and more.
Highlighted speakers include:
Christopher Houchens, Branch Chief, Antibacterial's Program, BARDA
Rosemarie Aurigemma, Chief, Biodefense Drug Development Section, NIH
Anthony Simon Lynch, Senior Scientific Director, Janssen Research & Development LLC
Alita Miller, Director of Biology, Entasis Therapeutics
William J Weiss, Director, Pre-Clinical Services, UNT Health Science Center
Domingo Gargallo-Viola, Co-Founder and CSO, ABAC Therapeutics
David Cook, Chief Scientific Officer, Blueberry Therapeutics Ltd
Please visit SMi's Superbugs & Superdrugs USA website for more information and to register.
Global Biodefense is an official media partner of Superbugs & Superdrugs USA 2016