U.S. Antibiotic Awareness Week (USAAW)
November 12, 2018

-

November 18, 2018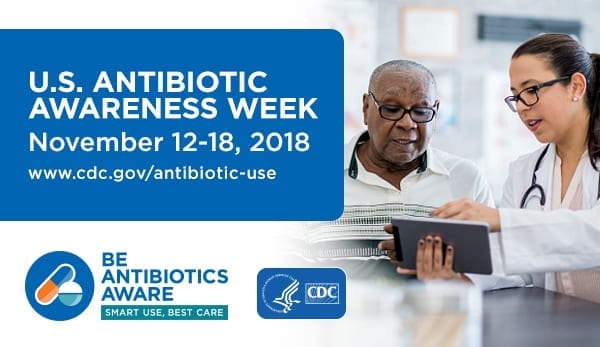 U.S. Antibiotic Awareness Week is November 12-18, 2018.
Each year in the United States, at least 2 million people become infected with bacteria that are resistant to antibiotics and at least 23,000 people die as a direct result of these infections. Many more will die from complications by an antibiotic-resistant infection.
Join the Centers for Disease Control and Prevention (CDC) on November 12 – 18, 2018 to observe U.S. Antibiotic Awareness Week. Federal agencies, health departments, professional societies, corporations, and advocacy groups from across the nation will participate in this effort highlight the steps everyone can take to improve antibiotic prescribing and use.
Antibiotics save lives and are critical tools for treating a number of common and more serious infections, like those that can lead to sepsis. However, at least 30% of the antibiotics in U.S. outpatient settings are prescribed unnecessarily. Any time antibiotics are used, they can cause side effects and lead to antibiotic resistance, one of the most urgent threats to the public's health.
Improving the way healthcare professionals prescribe antibiotics, and the way we take antibiotics, helps keep us healthy now, helps fight antibiotic resistance, and ensures that these lifesaving drugs will be available for future generations.