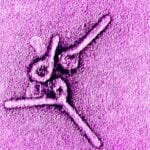 Breakthrough research from the Canadian National Centre for Foreign Animal Disease and the National Microbiology Laboratory has raised concerns about possible airborne inter-species transmission of the deadly Ebola virus.
The researchers demonstrated transmission of the Zaire strain of Ebola from pigs to macaques without direct contact between them.
Pigs inoculated with the Ebola virus were kept physically separated but in close proximity to the monkeys, all of which contracted the illness.
"What we suspect is happening is large droplets – they can stay in the air, but not long, they don't go far," states Dr Gary Kobinger of the National Microbiology Laboratory at the Public Health Agency of Canada. "But they can be absorbed in the airway and this is how the infection starts, and this is what we think, because we saw a lot of evidence in the lungs of the non-human primates that the virus got in that way." The statements were made in response to questions from BBC News.
While primates develop systemic infection associated with immune dysregulation resulting in severe hemorrhagic fever, the Ebola infection in swine appears to primarily affect the respiratory tract, implicating a potential for airborne transmission. The researchers are concerned that pigs might be a natural host for the lethal virus and that limited airborne transmission might be contributing to the spread of the disease in some parts of Africa.
Read the full study at Nature Scientific Reports: Transmission of Ebola virus from pigs to non-human primates.
Editor's Note: Since the 2014 Ebola outbreak began in W. Africa, this article has been widely referenced by some as "evidence" to support theories and fears of Ebola easily mutating into an airborne threat to humans. We invite you to read this recent article for further context on what the 2012 pig study tells us.