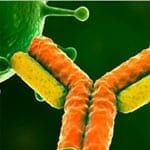 The Center for Biosecurity of UPMC this week made public a final report designed to provide leaders in the US Department of Defense (DOD) with an expert assessment of the feasibility and strategic implications of next-generation monoclonal antibodies (mAbs) as medical countermeasures for military personnel.
The report recommends appropriate DOD investments in mAb technologies as a defense against bioweapons and emerging infectious diseases, and outlines the state of mAb therapeutic development for infectious diseases such as Vaccinia, Antrhax, Ebola, Marburg and a range of Category B and C biological threat agents.
"Monoclonal antibodies have great potential usefulness to counter biological warfare agents and naturally occurring infectious disease threats that are not addressed by currently available countermeasures," states the report summary.  "Monoclonals display exquisite specificity, are able to recruit additional host immune components to fight infection, confer near-immediate immunity once administered, can be successfully administered to all populations regardless of current immune status, and have a generally low rate of adverse reactions."
The project was supported by the Defense Threat Reduction Agency Chem Bio Directorate, and in collaboration with TASC, Inc, under contract #HDTRA1-11-D-0004.
Read the full report at the Center for Biosecurity website: Next-Generation Monoclonal Antibodies – Challenges and Opportunities (.pdf)
Editor's Note: The Center for Biosecurity at UPMC is now known as the UPMC Center for Health Security.