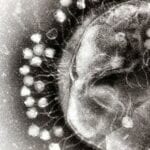 The U. S. Army Medical Research and Material Command (USAMRMC) this week announced a new effort seeking partnerships with research organizations for the development of bacteriophages as Food and Drug Administration (FDA)-approved medical therapeutic products for human clinical indications.
In particular, USAMRMC is seeking replies from entities interested in bacteriophages as treatments for skin and soft tissue infections caused by Staphylococcus aureus and bacterial diarrhea.
"USAMRMC believes that a Cooperative Research and Development Agreement (CRADA) would be a suitable framework for the establishment of a partnering relationship," states the announcement. "While USAMRMC cannot supply funding under a CRADA, USAMRMC resources (facilities, materiel, and labor) can be used to support the manufacturing and testing efforts needed for medical product development."
Further details are available under Solicitation Number: W81XWH-13-RFI-BACT. Statements of interest must be submitted no later than March 11, 2013.