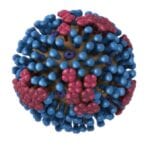 The World Health Organization (WHO) has received notification of three cases of human infection with influenza A (H7N9), previously unknown to infect humans. The cases were laboratory confirmed on March 29 in China and reported to the WHO by the China Health and Family Planning Commission on March 31, 2013.
Two of the cases were reported from Shanghai and one from the Anhui province. All three cases presented with respiratory tract infection with progression to severe pneumonia and breathing difficulties. Disease onset was between 19 February and 15 March 2013. Two of the cases died. The third victim, a 35-year old female, is currently in critical condition.
H7N9 bird flu has been considered to be a low pathogenic strain that cannot easily be contracted by humans. The overwhelming majority of human deaths from avian influenza have been caused by the H5N1 strain.
Laboratory testing for influenza A (H3N2), A (H1N1) pdm09 and A (H5N1), as well as for novel coronavirus, has been negative.
Chinese officials reported no apparent was sign that any of the three had contracted the disease from each other, and no sign of infection in the 88 people who had closest contact with them.
Enhanced surveillance measures have been implemented and investigations into the source of infection and mode of transmission are ongoing.