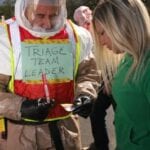 The Department of Homeland Security (DHS) Science & Technology (S&T) Directorate is seeking proposals from small business interests for the development of affordable Information Technology-based solutions for automated management of patient tracking during triage activities in a mass casualty incident.
Current mass casualty triage patient tracking techniques rely on paper forms, analog voice communications, and colored vinyl tape or tags. At best, these techniques may also include the use of radio-frequency identification (RFID) tags. 
DHS states that while these techniques are robust, have a long shelf life, and do not require any type of external power source, they are not scalable for very large incidents such as may result from an urban area terrorist attack, hazmat spill, or natural disaster. Additionally, the Emergency Services sector is comprised of so many independent components that it is difficult to even know what technologies, if any, are being utilized. 
The Phase I effort will inventory the Emergency Services sector to establish the current feasibility of Information Technology (IT) tools and applications that may be utilized for this purpose. This will span all aspects necessary to tag, assess, treat, and track patients as they move from incident scene to pre-hospital staging to emergency care facilities. Results will be documented in a final report. 
Specific areas of interest include the following:
Incident Command systems being utilized by a Federal-level, large metropolitan, and small rural services
Patient Care Reporting systems used by various area services
Disposable bar code ID tags and associated hand held scanners
Disposable digital code ID tags and associated hand held readers
Ruggedized tablet functionality, processing power, and battery life
Decentralized database systems
Ad-hoc and self-configurable local area networks
Assessment of feasibility to interact with IT devices while wearing standard EMS or Fire Personal Protective Equipment
Assessment of time-burden imposed using IT devices vs. current non-IT methods
Assessment of Operations and Maintenance burden such as support, batteries, and logistics of IT devices versus current non-IT methods
Phase II projects will develop prototype end-to-end capabilities maximizing the use of commodity components. This effort will be required to demonstrate unpacking and setup of IT equipment and disposable tags; assignment of unique IDs; updating and tracking a given IDs attributes as it moves through various stages of a mass casualty incident; and provision of an audit record with timestamps of the status of every ID assigned during the triage phases. 
The Emergency Services market has a number of large, medium, and small IT-based service providers, especially for automating Incident Command and Electronic Patient care reporting functions. The work under this effort would have the goal of seamless integration with these existing functions to provide improved patient outcomes and enhance EMS provider safety.
The effort is managed by DHS S&T's Small Business Innovation Research (SBIR) Program Office. Small business concerns with the capability to conduct research or development on this topic are encouraged to respond.
Further details are available under Solicitation Number: HSHQDC-13-R-00032. The effort is currently in a pre-solicitation phase, with the full solicitation anticipated for release on April 18, 2013.