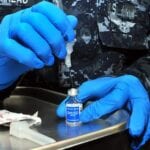 Naval Health Research Center (NHRC) manages and executes expeditionary operational medical research, development and test and evaluation programs for the Naval Medical Research Center enterprise, the Navy Medicine Research and Development Center, and as the designated Department of Defense Center for Deployment Health Research. 
In support of these missions, NHRC has issued a Broad Agency Announcement (BAA) seeking concept papers to address scientific study and experimentation requirements. Highlighted topics of interest include:
Pandemic influenza and vaccine studies
Diseases and treatments of respiratory illnesses
Testing of rapid diagnostic assays and platforms
Malaria, dengue, enteric diseases, and wound infection research to improve force protection
Conduct clinical trials of potential vaccines and therapeutics
Improvements in military-specific HIV prevention, care and treatment programs in foreign military partners around the world
Surveillance of respiratory illness among deployed troops and at training facilities
Specimen testing from ongoing surveillance programs and from special investigations of febrile illness
Address safety and efficacy of drugs, vaccines and new diagnostics as they impact military operational health concerns
Anti-inflammation procedures or products that limit tissue injury and promote healing
Novel treatments to reduce bacterial load such as hyperbaric oxygen and nitric oxide applications
Technology to assess total bacterial load in blast wounds
Biomarker discovery to predict outcomes related to wound infection
Research on toxicity of sand microbes or jet fuel exposures to personnel
Health and safety of forces in directed energy operating environments
Data improvements to support estimating theater medical requirements
A variety of other requirements in Medical Modeling, Simulation & Mission Support, Warfighter Performance and Deployment Health Research are listed in the full BAA available at FBO.gov: W911QY-13-R-0063.
The BAA was issued in April 11, 2013 and remains effective for two years or until superseded. 
Image courtesy of U.S. Navy