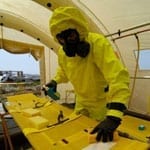 Consequence management for a chemical, biological or radiological incident requires planning for how to deal with decontamination and transport of both survivors and casualties.
This week the U.S. Army Materiel Systems Analysis Activity (USAMSSA), in conjunction with the Joint Requirements Office for Chemical, Biological, Radiological, and Nuclear Defense (JRO-CBRND), issued a request for information on products and technologies that could be used for the containment and transport of contaminated human remains.
Contamination could be from exposure to traditional chemical warfare agents, biological warfare agents, non-traditional agents, toxic industrial materials and radiological particles. 
Although the focus is on products or technologies at Technology Readiness Level (TRL) 4, the government states it will consider technologies at lower TRLs, if appropriate. 
Interested organizations should respond by May 24, 2013. Further details are available under Solicitation Number: W911QY13RCONMIT-CHR-AOA.