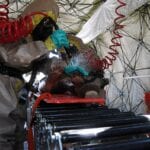 The Joint Requirements Office for Chemical, Biological, Radiological, and Nuclear Defense (JRO-CBRND) is seeking information on products, technologies, and approaches that support the mass decontamination of individuals, not injured or experiencing symptoms, from exposure to traditional chemical warfare agents, biological warfare agents, non-traditional agents, toxic industrial materials and radiological particles. 
Specific information requested on each of the products or technologies includes:
Capacity/Throughput – personnel per hour, decontamination and rinse water flow rate per decontamination station, collection and removal of spent decontamination solutions, and ability to segregate rinse water
Detector Compatibility – describe any known interferences with monitoring technologies
Compartmentalization – receiving area, decontamination area, clean/post decontamination area
Area coverage and ability for ad-ons such as triage areas, personnel affects decontamination area, etc.
Requirement for support systems including but not limited to decontamination supply system, heater for decontamination system and interior areas
Power Requirements including lighting and any other ancillary equipment
Times to Set-up and Process
Environmental Considerations, including any hazardous waste generation and waste disposal
Storage Requirements
Test Data to include efficacy, ability to contain agent contamination, and permeability resistivity
Post utilization cleaning requirements
Although the focus is on products and or technologies at Technology Readiness Level 4, technologies at earlier development stages may also be considered.
Further details are available under Solicitation Number: W911QY13RCONMIT-MD-AOA. Interested companies must respond by May 24, 2013.