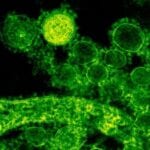 French health authorities today announced a 65-year old citizen is hospitalized in intensive care with an acute respiratory infection after having contracted the emerging novel coronavirus (nCoV). 
Where or how the patient contracted nCoV is still being investigated, but the Health Ministry reports the Frenchman fell ill in April after returning from a trip to the United Arab Emirates.
Laboratory analysis by the Pasteur Institute confirmed the virus as nCoV. French government surveillance screening programs have identified 19 suspicious cases thus far, but this is the only case to date that has been positive for the emerging disease.
The nCoV has claimed seven lives since it was first identified in September 2012. Most cases have been in the Middle Eastern countries of Jordan, Qatar, Saudi Arabia and the United Arab Emirates; three cases in the United Kingdom were linked to an infected family member who had recently traveled from Saudi Arabia.
"While the cases are sporadic, we need to understand more about how people are falling ill with this disease…we are concerned about possible human-to-human transmission, even if limited," said Glenn Thomas, a World Health Organization spokesman (Source: Wall Street Journal).