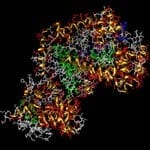 The Defense Advanced Research Projects Agency (DARPA) is soliciting innovative research proposals to develop new high-throughput methods and tools that within thirty days uncovers the sequence of molecular events that underlie the biological effects of any drug, chemical, biologic, or threat agent.
Existing biological methods and tools often require years to identify the primary molecular targets and the complex sequelae that together constitute the molecular mechanism of action of chemicals and biologics. In some cases, the mechanism can involve many hundreds of intracellular molecules and interactions between them. This knowledge is important because a detailed molecular mechanism provides a framework from which threat mitigations or countermeasures might be developed.
This knowledge is needed in a timely manner so as to constitute a credible defense and potential deterrent to the use of chemical or biological threat agents. The method or tool should reveal molecular events that occur within milliseconds of exposure, as well as those events that occur hours or days later. The system should be agnostic to the nature of the threat, drug, biologic, or chemical so that known, unknown, synthetic, or emerging threats are equally amenable to study.
Innovative proposals will develop general, label-free approaches that do not require prior knowledge of mechanism. Conventional methods that rely on molecule-specific probes may be used only to confirm key molecules or events in the mechanism perceived by the innovated methodology, or to fill in gaps where the newly developed approach is inaccurate or uncertain.
Methods and tools developed under this program must be able to capture molecular events triggered by exposure to challenge compounds. These events typically occur over time frames from milliseconds to days after, and during, exposure to challenge compounds. For example, binding of a signaling molecule or threat agent to a protein is expected to occur on a millisecond time scale, while changes in gene and protein expression typically take place over hours to days. 
DARPA anticipates that the Rapid Threat Assessment program will provide up to five years of funding for research and development, divided into a Base Period of no more than 18 months followed by three additional Option Periods up to 14 months each.
The agency will host a Proposer's Day webinar on May 21, 2013 to provide more information on the program's vision and objectives. Advanced registration is required.
Specifically excluded for this effort is research that primarily results in evolutionary improvements to the existing state of practice. Further details are available under: Solicitation Number: DARPA-BAA-13-34. The response deadline for white papers is June 6, 2013.