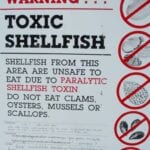 Blooms of microalga Karenia produce potent brevetoxins that kill fish, birds and marine mammals and can cause neurotoxic shellfish poisoning and respiratory distress in humans.
The U.S. Dept. of Commerce, NOAA, National Ocean Service, Center for Coastal Fisheries and Habitat Research is seeking feasibility reports for field test kits for detection and quantification of brevetoxins from aqueous environmental samples, including shellfish. 
The contract is for a feasibility report for rapid, accurate and inexpensive field testing kits. Requirements include validation of anti-brevetoxin antibodies capable of detecting PbTx-1, 2 and 3 for assay development, testing of the detection capabilities and provision of a plan for development and commercialization of the brevetoxin test kit in future funding cycles. 
The test kits are to be used for real-time toxicity testing at beaches throughout Florida and other regions in the Gulf of Mexico where Karenia blooms are more prevalent. 
This acquisition has been issued as an RFQ (EE133C-13-RQ-0694) and will be awarded as a firm fixed price order under simplified acquisition procedures. All responsible sources may submit a quote which shall be considered by the agency.