The U.S. Army Medical Research Institute of Chemical Defense (USAMRICD) hosted its 19th Biennial Medical Defense Bioscience Review, "Advances in Medical Chemical Defense," May 11-15 in Hunt Valley, Md.
The conference brought together more than 300 scientists from government, academic and commercial organizations to survey the latest research to develop medical countermeasures to protect against the effects of chemical warfare agents and biological neurotoxins.
Dr. James Wilson, professor of pathology and laboratory medicine at the University of Pennsylvania, provided the keynote lecture. A pioneer in the field of gene therapy with over 117 patents, Wilson spoke on "Vector Platforms for Biodefense and Pandemics."
Since 2002 a highlight of the Bioscience review has been the Clarence A. Broomfield Award lecture, named for one of the institute's most distinguished scientists and the award's first recipient. The award recognizes outstanding achievements as a researcher and mentor in the field of medical chemical defense.
This year's recipient, Professor Joel L. Sussman of the Weizmann Institute of Science in Israel, is a structural biologist known for his research into the three-dimensional structures and functions of proteins and nucleic acids. His research into the three-dimensional structure of the enzyme acetylcholinesterase, the enzyme inhibited by nerve agents, has contributed immeasurably to the efforts to develop bioscavenger prophylaxis and therapeutics against chemical warfare nerve agents.
The title of Sussman's award lecture was "Acetylcholinesterase – From 3D Structure to Function: Impact on Drug Discovery and Protection against Chemical Threat Agents."
Throughout the meeting, platform talks and poster presentations explored promising research efforts across a variety of medical chemical defense topics. In the nerve agent countermeasures sessions, presentations focused on finding better, and more centrally active, oximes to reactivate the enzyme acetylcholinesterase, a particular target of nerve agents, and on providing better protection against nerve agent-induced seizures and subsequent brain damage.
Mitigating the effects of chemical agent exposure was examined through presentations on the development of bioscavengers, the treatment of exposure from the absorption of agent through the skin, and improved methods of decontamination.
In the field of analytics, the USAMRICD's new ADMET (Absorption, Distribution, Metabolism, Excretion and Toxicology) center was the focus of several presentations, as were methods to diagnose or confirm exposure to chemical agents.
A session on toxicants covered a broad spectrum of agents to include sulfur mustard, toxic industrial chemicals, botulinum neurotoxin and cyanide. Additionally, research on the particular toxicity of inhaled chemical agents and on how exposure to nerve agent effects at a young age affects biological development was explored. The latter topic is especially relevant in an era when a terrorist attack or a military chemical attack against civilians would affect individuals of all ages.
"The session chairs did a fantastic job of assembling a world-class scientific program with excellent speakers," said Dillman. "A wide variety of attendees expressed to me that they enjoyed the conference and thought that the scientific program was one of the best ones in recent memory, so the chairs' hard work was evident to everyone."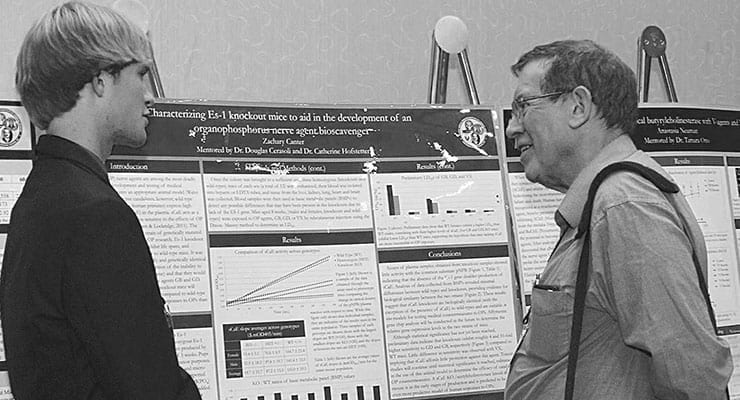 Attendees also had the opportunity to participate in several breakout sessions and workshops, to include an educational experience provided by the USAMRICD's Chemical Casualty Care Division (CCCD), for which participants earned continuing educational credits.
In the two-hour, hands-on workshop, "From the Laboratory to the Aid Station: A Crash Course in Chemical Casualty Simulation," the division's Field Training Team provided instruction on cutting edge, high fidelity casualty simulation practices.
The Bioscience Review included awards for best poster presentation in four categories. Selectees included USAMRICD's Michelle Guignet, best technician or graduate student poster, for "Interleukin-18 expression increases in response to neurovascular damage following soman-induced status epilepticus in rats."
USAMRICD's Dr. Phillip Beske, was awarded best post-doctoral poster, for "Functional network- and synapse-level responses to Clostridial neurotoxins in stem cell-derived neurons: a next generation cell-based platform with shared pathophysiologies to in vivo intoxication."
Capt. Carl Smith, USAMRICD, won best Department of Defense principal investigator poster, for "Sarin exposure across the estrous cycle: hormone-dependent protection"; and Dr. Alexandra Cook, of the Defence Science and Technology Laboratory, United Kingdom, won for "The PKPD of HI-6 DMS in the conscious guinea pig."
The final award went to Dr. Yossi Rosman, of the Israel Defense Forces for "Early MR imaging of organophosphate-induced brain damage and clinical outcome: Is there a correlation?" as the best international principal investigator poster.
In recent years, the Bioscience Review has become a venue not only for scientific dialogue among the leading researchers in medical chemical defense, but also for encouraging and rewarding the scientific endeavors of students from the Aberdeen High School Science and Math Academy. A special poster session featured the students' Capstone Projects completed under the mentorship of USAMRICD scientists.
Article courtesy of Cindy Kronman, USAMRIID, edited for context and length. Image Credit: Cary Sisolak