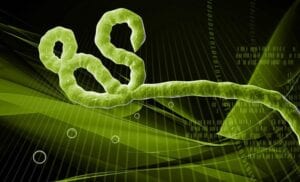 The Centers for Disease Control and Prevention (CDC) on Wednesday announced laboratory confirmation of the first case of Ebola to be diagnosed in the United States.
The patient had traveled from Liberia to Dallas, Texas, arriving in the U.S. on Sept. 20, 2014 and developed symptoms approximately four days later on Sept. 24.
On Sept. 26, the patient sought medical care at Texas Health Presbyterian Hospital of Dallas and was not admitted. Upon returning to the hospital by ambulance on Sept. 28, doctors then determined his symptoms were consistent with a potential ebolavirus infection.
The facility isolated the patient and sent specimens for testing at CDC and at a Texas lab participating in the CDC's Laboratory Response Network. CDC and the Texas Health Department reported the laboratory test results to the medical center to inform the patient. A CDC team has been dispatched to Dallas to assist with the investigation.
Let's Get a Travel History
Questions are being raised as to the hospital's failure to ask the patient for a recent travel history, in order to pick up on the potential for Ebola. Dr. Edward Goodman, an infectious disease specialist at the hospital, told a news conference on Tuesday that the patient presented with "non-specific symptoms" and was sent home with a prescription for antibiotics.
Experts are questioning why, during the worst outbreak of Ebola in human history, the hospital failed to be more proactive with this case. The CDC has for several months been advising hospital emergency department staff to ask patients whether they have recently traveled to Liberia, Sierra Leone or Guinea, the countries hardest hit by the Ebola outbreak.
The two-day lag "is a critical point," said Dr. Michael Osterholm of the University of Minnesota, according to Reuters. "It is going to be very important to go back and look at this and ask basic questions about what happened and could it have been handled differently."
Passengers on Flight Likely Not at Risk
CDC Director, Dr. Tom Frieden sought to reassure the public, stating "Ebola can be scary. But there's all the difference in the world between the U.S. and parts of Africa where Ebola is spreading. The United States has a strong health care system and public health professionals who will make sure this case does not threaten our communities."
The ill person did not exhibit symptoms of Ebola during the flights from West Africa and CDC does not recommend that people on the same commercial airline flights undergo monitoring, as Ebola is contagious only if the person is experiencing active symptoms. The person reported developing symptoms several days after the return flight.
Contact Monitoring
While health officials are working to trace all possible contacts, according to USA Today, they are closely monitoring a possible second Ebola patient who had been in close contact with the infected patient.
Officials also said the diagnosed patient was in contact with several children before he was hospitalized, and that each of those children have been kept home and are under precautionary monitoring.
The Dallas County school district says they're working closely with health officials to take appropriate steps.
"DISD is in contact with Dallas County Health Department regarding the Ebola investigation," read a statement from Jon Dahlander, a spokesman with the district. "They are consulting with the County on any additional action that may need to be taken during the course of investigation.
"While it is not impossible that there could be additional cases associated with this patient in the coming weeks, I have no doubt that we will contain this," said Frieden.
Anyone concerned about possible exposure may call CDC-Info at 800-CDC-INFO for more information.