President Barack Obama recognized two researchers from the Naval Medical Research Center (NMRC), along with representatives from the other services and organizations, for their efforts in supporting Operation United Assistance (OUA) in West Africa at a press conference, February 11. Cmdr. Guillermo Pimentel, Deputy Director of NMRC's Biological Defense Research Directorate, and Lt. Andrea McCoy, Division Officer of the Operations Department, in the same directorate, represented the Navy.
The President began by saying, "Last summer, as Ebola spread in West Africa, overwhelming public  health systems and threatening to cross more borders, I said that fighting this disease had to be more than a national security priority, but an example of American leadership. After all, whenever and wherever a disaster or a disease strikes, the world looks to us to lead. And because of extraordinary people like the ones standing behind me, and many who are in the audience, we have risen to the challenge."
The Ebola epidemic took NMRC staff to one of the hardest hit countries in the region, Liberia, where two Navy mobile laboratory teams were deployed.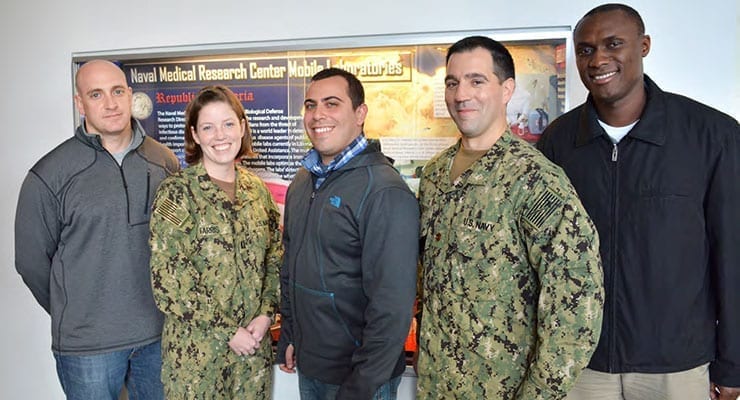 Pimentel was one of a two member advanced team deployed September 21, 2014, to scout locations, determine effective field protocols, and set up the laboratories. He met with Joint Forces Command to clarify the mission and expectations for the mobile laboratories. He also worked closely with representatives from the World Health Organization, U.S. Centers for Disease Control and Prevention, Defense Threat Reduction Agency, and the Liberian Ministry of Health to establish a system to transport samples to the laboratories, a critical step in supporting disease surveillance and identifying new Ebola cases and outbreak hot spots.
The President also pointed out that Pimentel lead a team of Navy Microbiologists to set up the mobile labs. "When the Ebola outbreak was getting out of control in West Africa, I was hoping to have the opportunity to deploy our mobile labs. I knew our Sailors would make a difference. I believe our Sailors saved hundreds of lives and the NMRC mobiles labs were a game changer. I am extremely proud of this mission and our Sailors' performance was flawless," said Pimentel.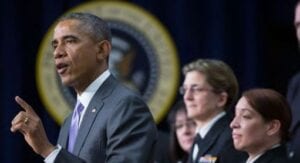 While the advance team was away, the team back in Maryland quickly assembled the necessary equipment to support the mission for the first 90 days. McCoy, First Officer in Charge, Island Clinic, Monrovia, Liberia, and her team prepared critical equipment and supplies.
Before deploying, the team spent seven days of intense laboratory training practicing the standard operational procedures they would be using in the field, which was specific to Ebola detection. McCoy was among the first to begin conducting Ebola testing. The laboratories deployed September 25, 2014, and by October 3, 2014, were fully operational and receiving samples.
"When patients thank you and sing praises because they know you are the one who called their blood 'negative'; when local teens in the streets stop to salute your vehicle because they see you are part of OUA; when Liberian healthcare workers ask who they can talk to, to keep you from having to go home; it's an extraordinary and rewarding feeling. I couldn't be more proud of my teammates for all we accomplished," said McCoy.
The President announced the withdrawal of almost all the American troops sent to West Africa to help contain the spread of Ebola. He also outlined new steps aimed at stopping the disease now that the crisis has eased.
"We are also here to marks a transition in our fight against this disease – not to declare mission accomplished, but to mark a transition. Thanks to the hard work of our nearly 3,000 troops who deployed to West Africa, logistics have been set up, Ebola treatment units have been build, over 1,500 African health workers have been trained, and volunteers around the world gained the confidence to join the fight. We were a force multiplier," said the President.
The President announced that by April 30, all but approximately 100 personnel will return from Liberia. He noted that the mission was not done, and as the military response is winding down, the civilian response is expanding.
"I am very proud Cmdr. Pimentel and Lt. McCoy were recognized at the White House. They are very deserving. Of course, we all understand they are representing a lot of people from throughout the NMR&D enterprise who have contributed so much to this effort. Everyone should be very proud of their work and this recognition," said Capt. John Sanders, commanding officer, Naval Medical Research Center.
Article courtesy of NMRC, edited for context and length.