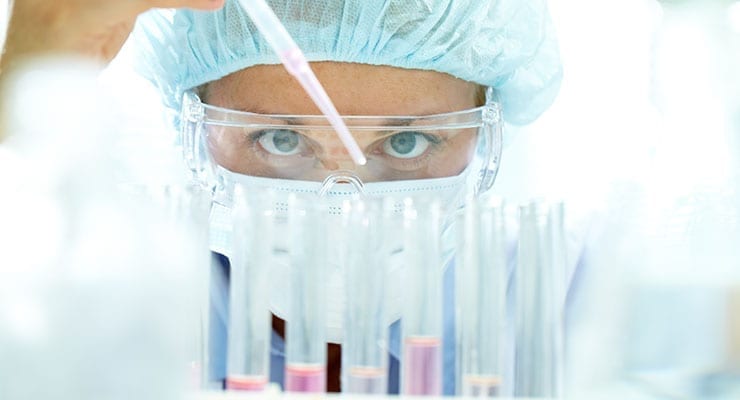 The National Institute of Allergy and Infectious Diseases (NIAID) Division of Microbiology and Infectious Diseases (DMID) has a requirement to provide and develop animal models in order to advance infectious disease research and the development of therapeutics and vaccines.
The current NIAID Animal Models of Infectious Diseases program is one of DMID's preclinical services resources and has supported the development and refinement of several animal models of infectious diseases, models that have been used subsequently to evaluate candidate medical countermeasures against these diseases.
See also: BARDA Selects UM SOM for Radiation Nuclear Animal Model Development
In addition, these contracts have facilitated regulatory submissions, patents, and other intellectual property applications by extramural investigators requesting evaluation of their products under these contracts. This program also has served the DMID mission of supporting investigator-initiated research by providing critical data needed to apply for grant or other funding. These contracts have also enabled product developers and sponsors to make key go/no-go decisions for candidate therapeutics, vaccines, and diagnostics.
Such data also facilitates the advancement of promising candidate medical countermeasures against priority bioterror agents to approval or licensure, and, in some cases, eventual deposit in the Strategic National Stockpile.
Background
In 2010, 38 institutions were awarded base contracts under the Animal Models of Infectious Diseases Indefinite-Delivery/Indefinite-Quantity (IDIQ) contract program. This program integrated services that had been provided via a number of smaller stand-alone contracts:
In Vitro and Animal Models for Emerging Infectious Diseases and Biodefense
Tuberculosis (TB) Vaccine Testing and Research Materials
Animal Models for Prevention and Treatment of Hepatitis B & C
Animal Models of Human Viral Infection for Evaluation of Experimental Therapeutics
Schistosomiasis Research Reagent Resource Center
Filariasis Research Resource Center
In addition to incorporating the objectives of these individual contracts, the overarching goal of the Animal Models of Infectious Diseases contract was to provide capability in a broad range of animal models for use in evaluating promising candidate countermeasures (vaccines, therapeutics, diagnostics) against the more than 270 infectious agents that are in the purview of DMID.
See also: New Zika Model Enables Screening of Potential Countermeasures
The amalgamation of animal model programs has allowed cost savings and deletion of redundant activities, and the breadth of the existing contractor pool has enabled a rapid and effective response to emerging infectious disease and emergency preparedness priorities.
Awarded contracts were divided into 4 model-specific pools:
Part A – Small animal models of infectious diseases
Part B – Small animal models of infectious diseases – with the capability to conduct studies compliant with regulations set forth in 21CFR58: Good Laboratory Practices
Part C – Non-human primate models of infectious diseases
Part D – Non-traditional animal models of infectious diseases
Non-Traditional Models
Going forward, the Preclinical Models of Infectious Diseases program will include non-traditional animal models as well as models that could serve as replacements for animals in product screening and efficacy studies. The program will continue to provide the capability and capacity to develop and employ animal and animal replacement models (e.g., organ-on-a-chip technology) of infectious diseases for screening and product evaluation and address a critical stage in this pipeline by bridging in vitro testing and eventual clinical evaluation.
In addition, for candidate products that are unable to be assessed for clinical efficacy in phase II or III trials for ethical or practical reasons, contracts awarded under this solicitation will enable regulatory approval or licensure via the guidance of the Food and Drug Administration's (FDA) Animal Efficacy Rule.
Contract Solicitation
This solicitation will award multiple IDIQ base contract awards to successful Offerors to be listed in pools eligible to compete for eventual task order awards in one or more of the following areas:
Task Area A – Small Animal Models of Infectious Diseases
Task Area B – Non-Human Primate Models of Infectious Diseases
Task Area C – Non-traditional and Animal Replacement Models of Infectious Diseases
The services shall be directed at all infectious agents except Human Immunodeficiency Virus (HIV), with special emphasis on the following areas:
Antimicrobial resistant and multi-drug resistant infections
Diseases caused by pathogens and toxins on the Emerging Infectious Diseases/Pathogens list including influenza, viral hemorrhagic fevers, arthropod-borne encephalitis viruses, rabies, Mycobacterium tuberculosis, Bordetella pertussis, Group A Streptococcus, and Coccidioides
Non-Biodefense Bacteria, including non-tuberculous Mycobacterial spp., Streptococcus pneumoniae, Mycoplasma pneumonia, Chlamydophila pneumonia, Haemophilus, spp., and Legionella, spp.
Non-Biodefense Viruses, including: Respiratory syncytial virus (RSV), human metapneumovirus, parainfluenza virus, Hepatitis B and C viruses, Herpesviruses (Herpes simplex virus (HSV) 1 and 2, cytomegalovirus (CMV), varicella-zoster virus (VZV), human herpesvirus (HHV)-6/7); papillomaviruses; enteroviruses; adenoviruses
Fungal diseases, including invasive aspergillosis, candidiasis, cryptococcosis, mucormycosis , pneumocystis pneumonia
Neglected tropical diseases, including: filariasis, trachoma, leprosy, schistosomiasis, and trichomoniasis
Sexually transmitted infections, including: chlamydia, bacterial vaginosis, and gonorrhea
The solicitation is still in pre-release phase, with the official Request for Proposals (RFP) expected on May 13th, 2016.