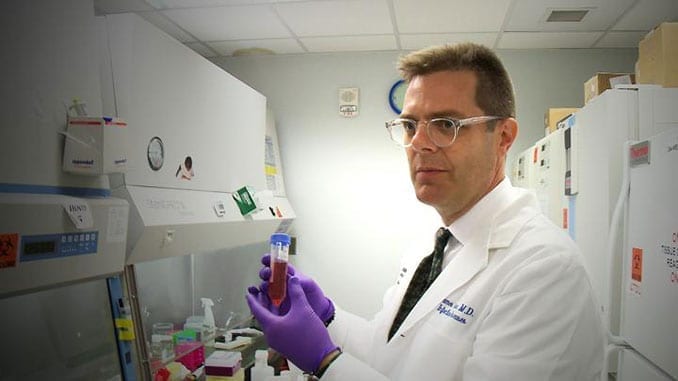 Administering a human antibody that neutralizes Zika virus to pregnant mice before or after Zika virus infection reduced levels of the virus in placental and fetal tissues and decreased fetal disease, new findings show. The work may aid development of vaccines and therapies for Zika virus infection, which can cause severe birth defects when it occurs during pregnancy.
The study was funded by the National Institute of Allergy and Infectious Diseases (NIAID), part of the National Institutes of Health, and conducted by scientists at Vanderbilt University, Washington University School of Medicine and Integral Molecular, a Philadelphia biotechnology company.
The researchers isolated immune B cells from the blood of three people with prior Zika virus infections, generated antibodies from these cells and characterized antibodies that bind to Zika virus proteins. One antibody, named ZIKV-117, neutralized all strains of Zika virus tested, including African, Asian and American lineages. Male mice that received a single dose of ZIKV-117 even five days after Zika infection were more likely to survive than those given a control antibody, suggesting that ZIKV-117 could treat active Zika infection.
The researchers next found that ZIKV-117 had protective effects during pregnancy. Pregnant mice that received the antibody and were then infected with Zika virus had lower levels of Zika virus in their blood and brain tissues than mice not treated with ZIKV-117. Among the treated mice, the scientists found protective levels of ZIKV-117 in fetal tissues and markedly reduced levels of virus in the placenta and the fetal brain.
Taken together, these findings suggest that ZIKV-117 may reduce mother-to-fetus virus transmission and also neutralize Zika virus that reaches the fetus. The researchers saw similar effects when they administered ZIKV-117 to pregnant mice immediately after the animals were infected with Zika virus. The reduced viral loads were associated with less placental injury and larger fetus size.
"These naturally occurring human antibodies isolated from humans represent the first medical intervention that prevents Zika infection and damage to fetuses," said James Crowe Jr., M.D., director of the Vanderbilt Vaccine Center and co-corresponding author of the paper with Michael S. Diamond, M.D., Ph.D., at Washington University.
Similar protection studies in primates are warranted, and if the findings hold up, ZIKV-177 or similar antibodies could be developed as a protective antibody treatment for pregnant women at risk of Zika infection, the researchers concluded.
In addition, the findings may inform the design of vaccines that elicit protective neutralizing antibodies against Zika virus.
"The remarkable potency and breadth of inhibition by ZIKV-117 has great promise," Diamond said, "as it was able to inhibit infection by strains from both Africa and America in cell culture and in animals, including during pregnancy."
Read more: G Sapparapu et al. Neutralizing human monoclonal antibodies prevent Zika virus replication and fetal disease in pregnancy. Nature DOI: 10.1038/nature20564 (2016).