2017 ASM Biothreats
February 6, 2017

-

February 8, 2017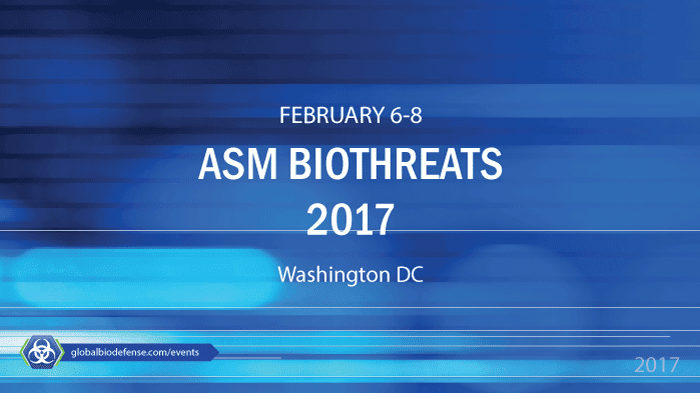 The 2017 ASM Biothreats conference, formerly known as the ASM Biodefense and Emerging Diseases Research Meeting, will be held February 6–8, 2017 in Washington, DC.
ASM Biothreats will cover a wide-range of biological threats and emerging infectious diseases to stimulate knowledge-sharing among stakeholders in academia, industry and government.
Highlighted sessions include:
Managing the Dual Threats of Lassa Fever and Ebola in West Africa
International Collaborations to Defend Against Biological Weapons
Mechanisms of Bacterial Pathogenesis: Drivers of Novel Medical Countermeasures
Predicting Emergence by Understanding the Past
Response Team Training in The High-Risk Environment
National Bioterror Emergency Response Preparedness
Emerging Parasitic Diseases: Pathogenic Mechanisms and Potential for New Control Measures
Pandemic Preparedness: Lessons Learned
Synthetic Biology: Defense Perspectives
Transporting Patients with Highly Contagious Diseases
Accreditation/Certification Needs for Process for Biocontainment Labs
In Vivo Physiologic Monitoring: Advancing Infectious Disease Research Through Translational Endpoints Captured from Wireless Monitoring Methods
Role of Genomics Emerging and Infectious Disease Surveillance
Vector Control – Is There Hope on The Horizon?
Melioidosis: A Disease Model for Translating Research and Response into Policy
Understanding Host Immune Responses During Infection and Implications on Vaccine Development
Licensure Under the FDA Animal Rule: A Path to Success
Zika Virus in The Americas
Please visit the ASM Biothreats 2017 website for more information and to register.