---
In This Edition
---
Visit our new resource page for the novel coronavirus outbreak:
---
Headline News
---
Biosecurity + Biodefense Jobs
---
SOCMED Highlights
---
---
ADVERTISEMENT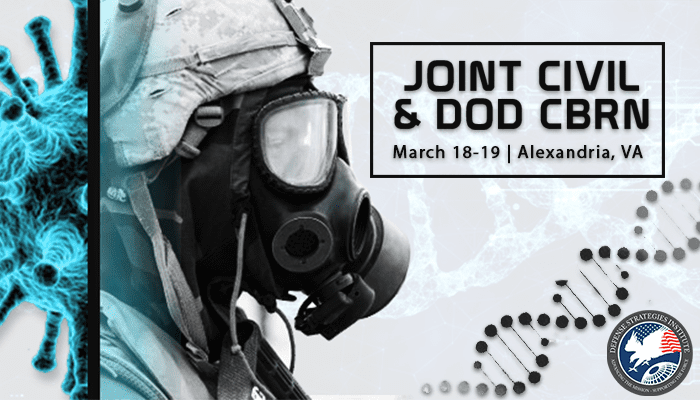 Joint Civil & DoD CBRN Symposium
18-19 MARCH 2020
Driving Medical Countermeasures Development to Limit the Adverse Health Effects of CBRN Incidents
Modernizing Capabilities for Rapid and Accurate Threat Detection + Assessment
Supporting Enhanced Warfighter and Emergency Personnel Protection
---
Contracts, Grants + Innovation Challenges
Feb 28: NIAID BAA Proposals Due Advanced Development of Vaccine Candidates for Acute Flaccid Myelitis (AFM) Associated with Enterovirus D68
Mar 31: EZ BAA Deadline: Novel Coronavirus Rapid Diagnostic Concise abstract submissions due for BARDA development funding of SARS-CoV-2 molecular diagnostics.
Apr 6: Influenza Data Processing and Outreach Contract proposals due for the Influenza Data Processing and Communication Center (iDPCC).
Apr 9: Radiation/Nuclear Medical Countermeasures Development Supports MCMs to mitigate and/or treat tissue injuries resulting from exposure to ionizing radiation
Apr 9: Therapeutic Products for Biodefense, AMR Infections, and Emerging Infectious Diseases Supports development of promising new therapeutics to address infections caused by NIAID Category A, B, and C priority pathogens and select bacterial and fungal infections.
Apr 9: Advanced Development of Diagnostics for Biothreats and EID BAA topic supports development of novel, rapid sample-to-answer candidate diagnostic products that will address biodefense and pandemic preparedness.
Jul 2: NIBIB Technology Accelerator Challenge: Handheld Diagnostics Anticipated to be released this month, this innovation competition will spur design and development of non-invasive, handheld, digital diagnostic devices that will target anemia, sickle cell disease, malaria, and other blood-related diseases.
Pharmaceutical Cargo Security Initiative Health Care Supply Chain Survey The purpose of this survey is to gather information from pharmaceutical owners and operators regarding the coronavirus outbreak, including concerns and challenges.
Headlines
---
READING + RESOURCES
PODCASTS + VIDEOS
→ TWiV 586: Coronavirus Update: Wash Your Hands TWiV team discusses the fatality rate, China's initial reaction to the outbreak, conspiracy theories, how long the virus remains infectious on surfaces, and evidence for virus in the intestinal tract. This Week in Virology
→ COVID-19: What's Happening Now IDSA speaks with Drs. Elisa Choi of Harvard Medical School, Amesh Adalja of Johns Hopkins Center for Health Security & Adeel Butt of Weill Cornell Medicine about the latest COVID-19 response efforts, public risk here and abroad, & the effects of recent travel restrictions. IDSA
→ Prevention, Protection, and Paediatrics During COVID-19 Dr Shunmay Yeung is a paediatrician who specialises in infectious diseases, and was one of the first LSHTM responders to the Ebola outbreak in 2014. Here, she discusses personal protective equipment (PPE) for healthcare workers during outbreaks, advice for how the public can best protect themselves, and why children don't seem to be affected by COVID-19. LSHTM Viral
→ COVID-19 Special Episode with Dr. Jonathan (Jono) Quick, author of The End of Epidemics and Professor at Duke University PDR Podcast
→ Novel Coronavirus Panel at the Johns Hopkins Bloomberg School of Public Health Johns Hopkins University
→ The Emerging Role of Pathogen Genomics in Public Health CDC
---
Journal Watch + Research Updates
---
FEATURED EVENTS
---
Sign up to receive weekly insights from the team at Global Biodefense.
Latest News from Global Biodefense