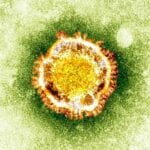 The World Health Organization (WHO) announced as of May 6, 2013 it had been notified of a total of 30 nCoV confirmed cases, including 18 deaths.
Within the past five days, officials from Saudi Arabia have confirmed 13 new cases of the novel coronavirus (nCov), several of which are clustered in a healthcare facility in the eastern part of the country. Of the 13 patients, 10 are men and three women. The age range of the patients is from 24 to 94 years old.
In reporting over the weekend from ProMED-Mail, an open online system for infectious disease surveillance, the Saudi Arabian Deputy Health Minister was sourced as having said the new cases indicated there is no apparent community transmission and transmission seem linked to the health care facility. 
Others were quick to point out that such transmission of the virus should not be ruled out.
"While it's not explicitly stated that it's person-to-person, with no evidence of an animal reservoir in the hospital, the only conclusion that can be drawn is that this is person-to-person," stated Dr. Michael Osterholm, Director of the University of Minnesota's Center for Infectious Disease Research and Policy. (Source: Times Columnist)
Osterholm further explained that multiple generations of spread could not be ruled out, given the range of dates of illness onset in the cases confirmed thus far. While the incubation period of the disease is not completely clear, there appears to be enough time between these cases for several generations of spread to have taken place. "This is far too wide to be an incubation period," Osterholm said. "This is much more complicated than that." (Source: Times Columnist) 
Health officials are monitoring the care facility closely to see if the infection is spread to other patients, workers or associated family members.
WHO continues to encourage member states to monitor cases of severe acute respiratory infections. 
Recommended: Saudis cite health facility as coronavirus cluster grows (CIDRAP)