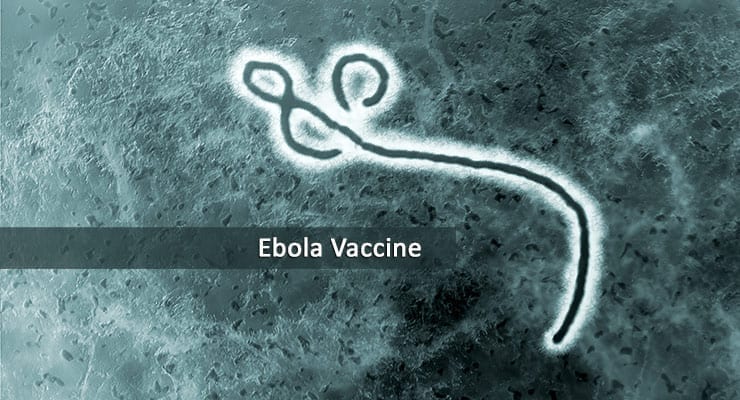 Data from a Phase 1 study of a preventive Ebola vaccine regimen suggests that the regimen was well-tolerated by healthy volunteers and did not result in any vaccine-related serious adverse events.
The article titled "Safety and Immunogenicity of Novel Adenovirus Type 26- and Modified Vaccinia Ankara-Vectored Ebola Vaccines A Randomized Clinical Trial" was published this week in The Journal of the American Medical Association (JAMA).
The Phase 1 study was led by the Oxford Vaccine Group at the University of Oxford Department of Paediatrics and took place in the United Kingdom. The study tested a vaccine regimen containing two components based on, respectively, AdVac® technology from Crucell Holland B.V., one of the Janssen Pharmaceutical Companies of Johnson & Johnson, and MVA-BN® technology from Bavarian Nordic.
Healthy volunteers were given one vaccine dose to prime their immune system, and then the alternative vaccine to boost their immune response, with the goal of evaluating the duration of immunity. Prime-boost vaccination is an established approach for the prevention of several infectious diseases.
While 97 percent of the trial participants generated antibodies specific to Ebola four weeks after a priming dose with AdVac, these immune responses were enhanced by administration of the MVA-BN booster dose, with 100 percent of participants generating Ebola-specific antibodies at 21 days post-boost, and 79-100 percent showing T cell responses depending on the dosing interval, thus validating the prime-boost concept.
Notably, eight months following prime vaccination, 100 percent of individuals in the study maintained Ebola-specific antibodies, while vaccine-induced T cell responses persisted in 77-80 percent of those receiving the AdVac/MVA-BN regimen.
The study provides the first set of data from a total of 10 Phase 1, 2 and 3 clinical studies that are being conducted on a parallel track across the U.S., Europe and Africa in support of potential eventual registration for the Ebola vaccine regimen.
The Ebola vaccine regimen is being developed by the Janssen Pharmaceutical Companies of Johnson & Johnson, in collaboration with Bavarian Nordic. The regimen was first discovered in a collaborative research program with the U.S. National Institutes of Health (NIH). Clinical studies have been supported by grants awarded by Europe's Innovative Medicines Initiative (IMI) to a consortium of leading global research institutions working with Janssen, which includes the London School of Hygiene & Tropical Medicine, the University of Oxford and Inserm, the French National Institute of Health and Medical Research.