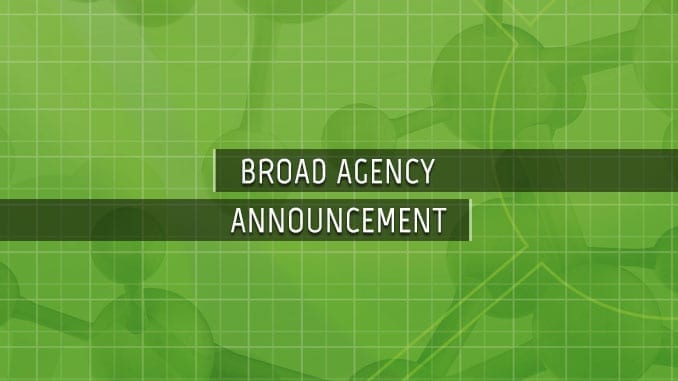 A new Department of Defense Broad Agency Announcement (BAA) released this week seeks proposals for extramural research supporting both military and civilian medical practice and knowledge.
The U.S. Army Medical Research Acquisition Activity (USAMRAA) will be the awarding and administering office for proposals selected for funding. The execution management agent for this BAA will be the Congressionally Directed Medical Research Programs (CDMRP).
The scope of this effort and the priorities attached to specific projects are influenced by changes in military and civilian medical science and technology, operational requirements, military threat assessments, and national defense strategies.
Program areas addressed by this BAA include:
Medical Biological Defense Research Program
Medical Chemical Defense Research Program
Military Infectious Diseases Research Program
Radiation Health Effects Research Program
Combat Casualty Care Research Program
Military Operational Medicine Research Program
Clinical and Rehabilitative Medicine Research Program
Medical Simulation and Information Sciences Research Program
Medical Biological Defense Research Program
The Medical Biological Defense Research Program (MBDRP) provides medical countermeasures for biological warfare agents.  These countermeasures include specialized medical materiel or procedures designed to enhance protection.  The priorities of the program are prophylaxis to prevent any casualty; identification and diagnosis of biological agents; and treatment or supportive care regimens.
Examples of some of the infectious agents of interest are those causing anthrax, plague, and glanders; the Ebola, Marburg, Venezuelan, Western and Eastern equine encephalitis viruses; and poxvirus models of variola virus.  Toxins and bacteria of interest include ricin, Staphylococcal enterotoxin, and botulinum neurotoxins.
Medical Chemical Defense Research Program
The Medical Chemical Defense Research Program (MCDRP) seeks to protect U.S. forces from the effects of chemical warfare agents by developing protective, pretreatment, and prophylactic products, providing products usable by the individual Service member for immediate treatment of chemical warfare agent exposures, and developing antidotes and therapeutics for treating exposures.
Research funded by this program may address topics as diverse as determining mechanisms of action and effects of exposure to chemical warfare agents with emphasis on exploitation of neuroscience technology, and respiratory, ocular, and dermal pathophysiology; identifying sites and biochemical mechanisms of action of medical countermeasures; exploiting molecular biological and biotechnological approaches for development of new approaches for medical countermeasures to chemical warfare agents; and exploiting molecular modeling and quantitative structure-activity relationships in support of drug discovery and design.
Military Infectious Diseases Research Program
The Military Infectious Diseases Research Program (MIDRP) focuses on vaccines, drugs, field-deployable clinical diagnostics and vector detection assays, and novel therapeutics to treat multidrug-resistant organisms in combat wound infections, as well as vector control measures for insect vectors that transmit naturally occurring endemic diseases with demonstrated or potential capability to decrease military operational effectiveness.
Diseases of principal interest to the MIDRP are malaria, dengue, diarrheal disease caused by bacteria, multidrug-resistant bacteria and fungi, and human immunodeficiency virus (HIV). The MIDRP also has smaller research programs focused on scrub typhus, adenovirus, and hemorrhagic fever viruses not found on the Defense Threat Reduction Agency (DTRA) biothreat list.
The MIDRP does not support proposals for funding research on viral or bacterial biowarfare threats, chemical weapon threats, or cancer.
Research efforts that focus on novel technologies for the detection, prevention, and treatment of naturally occurring infectious diseases such as norovirus and other viral diarrhea, Q fever (Coxiella burnetii), Crimean-Congo hemorrhagic fever, protozoal diarrhea, Rickettsiosis, Zika virus, Chikungunya virus, multidrug-resistant bacteria and fungi, as well as technologies that leverage current DoD intramural research efforts in malaria, dengue, bacterial diarrhea, and HIV are needed.
MIDRP is interested in Investigational New Drug (IND)-enabling preclinical and clinical studies to facilitate the development of therapeutics for prevention or treatment of multidrug-resistant bacteria, fungi, and emerging infectious disease threats (e.g., Chikungunya virus, MERS-CoV, Zika virus).
Radiation Health Effects Research Program
The Radiation Health Effects Research Program (RHERP) focuses on developing medical countermeasures for acute ionizing radiation injury.  The program has interest in the following research involving: post-exposure mitigation of radiation injury; protection and prevention of injury from ionizing radiation exposure; mechanism of radiation injury; and development of novel biodosimetry tools.
Further details are available at Grants.gov via W81XWH-17-R-BAA1. Pre-proposals can be submitted anytime over the next year; invited full proposals can be submitted through September 30, 2017.