Ultraviolet Disinfection Technologies & Healthcare Associated Infections
January 14, 2020

-

January 15, 2020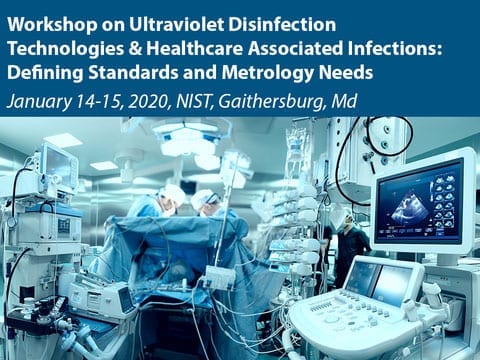 The National Institute of Standards and Technology (NIST) is co-hosting a 2-day meeting with the International Ultra Violet Association (IUVA) focused on examining measurement, standards, technology and data research needs to promote innovation in the effective use and implementation of ultraviolet-C (UVC) technology in healthcare settings for the reduction and prevention of healthcare associated infections (HAIs).
This unique event provides the community with an opportunity to learn about the current science in HAI prevention with UVC and to discuss standard needs in both the physical and biological performance areas for UVC disinfection devices.
HAIs are recognized as an important public health and patient safety issue. UVC devices are shown to reduce the incidence of many HAIs, but the adoption of the technology by the healthcare industry has been sparse. There is a lack of performance standards to help healthcare managers make informed, credible investment decisions. Measurements and standards in the light and biological sciences are needed to accelerate the adoption of UVC technology in the healthcare market.
Through two days of targeted programming, attendees will learn about the latest developments in UVC technology, engineering and operations, and regulatory issues related to disinfection. Current measurements, standards and data supporting UVC disinfection will be discussed in the context of innovation and implementation. Input from the event will be used by the community for the development of proposed performance standards for UVC disinfection devices.
Programming will include plenary presentations from invited keynote subject matter experts and round table engagements with representatives from industry, academia and federal agencies. There will be optional campus lab tours where attendees can view up-close NIST's metrology R&D in the UV and biological sciences, including UV calibrations and biological measurements.
Registration contact: Karen M. Startsman, karen.startsman@nist.gov (301) 975-6602
Editor's note (1 Dec 2019): Registration is expected to open shortly.  Please check this website for the latest information updates. Once registration is open, it is expected to remain open until Tuesday, January 7, 2020.