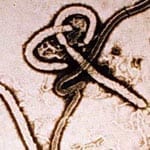 The World Health Organization (WHO) reported as of last week there are 46 reported cases of Ebola hemorrhagic fever (EHF) in the Democratic Republic of Congo (DRoC). Of these cases, 14 are laboratory confirmed and 32 are probable.
An additional death was reported, raising the total to 19 mortalities suspected to be from the deadly virus.  Active epidemiological investigation is being coordinated by the DRoC's Ministry of Health (MoH) to identify all possible chains of transmission of the illness, and ensure that appropriate measures are immediately taken to stop the outbreak.
MoH is working with partners including Medecins Sans Frontieres (MSF), U.S. Centers for Disease Control and Prevention (CDC), the International Federation of Red Cross and Red Crescent Societies (IFRC), US Agency for International Development (USAID), United Nations Children's Fund (UNICEF) and WHO, to control the outbreak.
According to statements from the CDC, the current outbreak is not connected to the July outbreak in Uganda which was caused by a different type of Ebola. (Read: Officials Work to Contain Deadly Ebola Outbreak in Uganda, July 28). The Congo outbreak is being attributed to virus subtype Ebola-Bundibugyo, which has an estimated mortality rate of about 34 percent based on prior outbreak statistics.
There are a total of 5 identified subtypes of Ebola, named after the location in which they were first detected. Four of the five have caused Ebola hemorrhagic fever (EHF) in humans: Ebola-Zaire, Ebola-Sudan, Ebola-Ivory Coast and Ebola-Bundibugyo. EHF is a febrile hemorrhagic illness which causes death in 25-90 percent of all cases. The Ebola Reston species, found in the Philippines, has not to date demonstrated significant illness or death in humans.
The Congo region has had eight previous Ebola outbreaks since 1976, including one in 2007 that killed nearly 200 people.