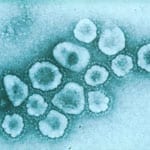 The Ministry of Health in Saudi Arabia has informed the World Health Organization (WHO) of another confirmed case of infection with the novel coronavirus (NCoV). 
The patient was hospitalized on 29 January 2013 and died on 10 February 2013. The case was laboratory-confirmed on 18 February 2013. 
In the United Kingdom, the Health Protection Agency continues to investigate the family cluster where three members of the family tested positive for NCoV infection. One member of this family, who had an underlying health condition, has died. 
Coronavirus is the same family of viruses that caused the 2003 severe acute respiratory syndrome (SARS) epidemic that killed some 800 people, primarily in Asia. Initial reports of the novel strain surfaced last September. 
To date, WHO has been informed of a total of 13 confirmed cases of human infection with NCoV, including seven deaths. 
Read more at the World Health Organization Global Alert and Response website.